Heating, Ventilation and Air Conditioning (HVAC)
Make your home more efficient and comfortable by upgrading your heating and cooling equipment. As an accredited Home Performance with Energy Star Contractor, we can inspect your home, provide recommendations for energy improvements and renewable energy options, and do the work necessary to save you money on your energy bills. Incentives and financing options are available to help pay for the work.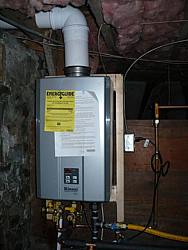 Geothermal Systems
Geothermal heat pump systems tap the constant temperature of the Earth to provide efficient heating and cooling. Ground temperatures in Western New York and the Finger Lakes remain relatively constant around 50 degrees F. Heat Energy is transferred between the building and the ground. In the winter, the geothermal system extracts heat from the ground. In the summer heat is removed from the house and transferred to the ground.